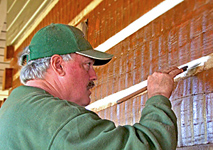 Total Log Cabin Restoration was started by Stewart Thibodeau. Stewart has over 40 years of being self-employed in the home improvement industry and has been restoring log homes since 1998 with his sons. Before restoring log homes, Stewart owned and operated a paint store for many years, which gave him the knowledge and understanding about various products in the field.
Total Log Cabin Restoration is a full-service restoration company providing services in the Wake Forest, Raleigh, Durham, and the entire state of North Carolina, as well as South Carolina, and Virginia. Stewart's sons provide restoration services in most of the northern states. All the family has been certified in the wood restoration business. Stewart has trained and directed the crew members and many entrepreneurs in starting their own wood restoration business, as well as offering consultations and troubleshooting and providing inspections. Owning a log home himself, Stewart fully understands the importance of restoring and maintaining log homes; therefore, he restores each log home with the same care and attention that he would perform on his own cabin.
We are one of the few companies who spend numerous hours prepping log homes before a coating is even applied. By applying the products correctly and understanding the specifications of the products, your products will have a longer life value and we can guarantee our workmanship. Log home maintenance is always worth its value and helps preserve your home's resale value.
Total Log Cabin Restoration restores about 90 to 100 cabins per year and our company is highly complimented by our clients in the amount of prep work our company performs on each log cabin we restore. Our company's success is not only attributed to our attention to detail, but the strong relationship with our customers and the great customer service our company provides. We thoroughly believe that the knowledge and proper applications procedures that our company utilizes are the key to doing a great job! Total Log Cabin Restoration has the experience needed to bring out the natural beauty of your log home.
The company is currently keeping abreast of all the industry changes and all the new products on the market today. Stewart and his crew are constantly attending seminars to become well informed in all the variety of products and EPA regulations. Being knowledgeable in all the variety of products in the field has greatly attributed to Stewart and the success of the company. The knowledge and professional reflects in our crews who have been with our company for over 13 years.