Log Home Repair - Hickory, NC - Catawba County
April 10, 2020
Folks,
Your carpenters arrived this morning to begin work. They could not have been nicer or more cooperative. With five dogs, one a Doberman, I needed their understanding to be able to exercise them in the area they were working. They went straight to work and kept at it all day. They will be back in the morning and I know they will continue at this pace. They won't get through everything and will need to come again. But you have two good, solid workers. My hat's off to you. Use me as a reference if I can help.
Roy S
---
Total Log Cabin Restoration - Lenoir, NC – Caldwell County
Total Log Cabin Restoration recently restored a cabin in Lenoir, NC Coldwell County. We started the process by stripping off the old product and neutralizing the wood to bring it back to the original wood color. The crew then continued to the next step and stained the cabin with TWP California cedar. California Cedar is one of our most popular color choices and the color of choice that Stu (owner of TLCR) has on his cabin.
Here is what the customer had to say:
"We have zero complaints. We were amazed with how much work went into this process. The guys did not cut corners and worked so hard. Everyone in this process was great to work with."
Annette P.
Lenoir, NC – Caldwell County
---
Total Log Cabin Restoration – Pittsboro, NC – Chatham County
We recently cleaned a cabin in Pittsboro, NC that had Sikkens product on it. This product is a little more maintenance than most but has beautiful results. We start by cleaning the surface and treating the cabin for beetles and bees. We then caulk any areas in the logs that allow water to come through. Lastly, we apply the stain and give the house a nice finished look.
Here is what the customer had to say:
"My experience was superb! Stu was on top of the project from beginning to end. The crew he had with him were all polite young men. The quality of the work and professionalism was beyond compare. My log cabin looks new again. I am delighted to have made the acquaintance of Stu and his company and I am certainly going to call on them again when needed. Thank you very much for an excellent job."
Tony G.
Pittsboro, NC – Chatham County
---
Total Log Cabin Restoration – Petersburg, VA – Dinwiddie County
Total Log Cabin just restored a beautiful log home in Petersburg, VA. This home completely changed colors and decided to go with a more modern look. We stripped off the old product and applied TWP Gold on the cabin. This is the lightest color that we use and has a very beautiful pigment to it. The customer wanted the trim color painted charcoal to really distinguish the two colors. The finished product was stunning!
The customer told us:
I'm so pleased with the final product and how fresh it makes the cabin look. Thank you for a great job!
Roy B.
Petersburg, VA – Dinwiddie County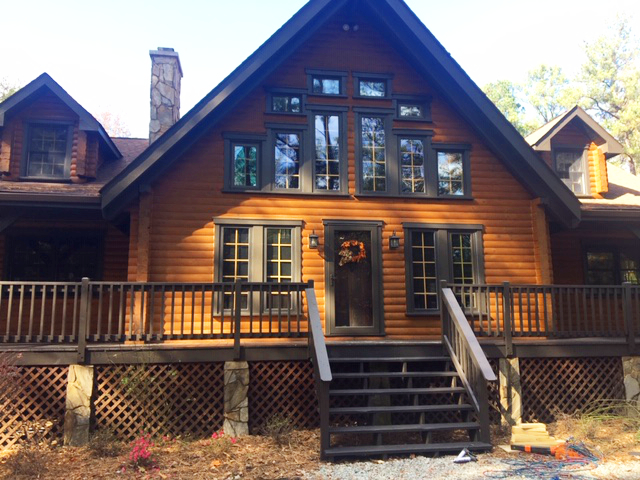 ---
Log Cabin Repair and Restoration, Roxboro, NC
---