Constance came to us wanting to bring some life back in to her log cabin. TLCR took time prepping the house in order to protect her landscape. After prepping, we stripped off the old stain product and sanded some areas that needed a little more attention. We then cleaned the wood and applied TWP Butternut for a new rich brown color...
Read More
---
Total Log Cabin Restoration just completed work on a cabin in Linville, North Carolina. The log cabin needed to be fully stripped to remove the old product so there was no product failure when applying the new stain. After stripping the cabin, TLCR applied a neutralizer. The neutralizer brightened the wood and helped to bring the pH level in the wood to accept the new product....
Read More
---
Our Total Log Cabin Restoration crew recently went to Semora, NC to complete a total log home restoration project for our new friend Marie G. This amazing log home underwent a complete transformation. To bring out the natural lust of this log home, Marie chose Redwood Naturaltone wood stain color. Redwood Naturaltone wood stain is a great choice for any log home owner...
Read More
---
Total Log Cabin Restoration restored two smaller cabins located together. The clubhouse cabin and the man's cave cabin were both grayed and weathered. Both cabins also had chinking that needed painting...
Read More
---
Total Log Cabin Restoration recently completed work on a cabin in Elkin, North Carolina. The log cabin was in need of a thorough clean to remove excess amounts of dirt, mold, and grime. TLCR made certain that all debris on the cabin was washed off before continuing with the preparation work. It is crucial that any debris be removed before caulking and staining...
Read More
---
Total Log Cabin Restoration restored a cabin in Randleman, North Carolina, located south of Greensboro. This cabin had dirt, green algae, and rotten logs, causing the wood to look dated and dull. TLCR recommended stripping the cabin and deck to brighten the wood and make the home look fresh and new...
Read More
---
Total Log Cabin Restoration recently completed work on a log cabin in Franklinton, North Carolina. Upon inspection, the cabin needed complete stripping to create a uniform look. TLCR stripped all the logs and trim, deck, and garage to remove existing stain and any dirt or mold....
Read More
---
Our Total Log Cabin Restoration crew recently completed a log cabin restoration in beautiful Whittier, NC! This log home underwent a total restoration and the end result was absolutely breathtaking! Our new friend Laura can now enjoy her beautifully restored log home....
Read More
---
Our Total Log Cabin Restoration Crew recently went to Powhatan, VA Powhatan County to complete a log home restoration for Laura C. Laura chose an amazing TWP wood stain for her beautiful log home. TWP's penetrating stain costs less and is guaranteed never to peel or flake!
---
George C. chose a gorgeous Wood Stain (Sikkens Cetol 023). Our TLCR crew applied 2 coats of Perma-Chink wood stain to the logs, siding, and windows. After the wood stain application dried, TLCR applied 2 coats of Perma-Chink's Clear Coat to the logs.
---
Let's travel to Clarksville, VA Mecklenburg County where we beautifully completed a log home restoration for Mike C.! At Total Log Cabin Restoration, we love sharing our log home restoration projects experiences with all our clients!
---
We recently had the pleasure of traveling to Bennett, NC Chatham County to complete a total log cabin restoration for Larry Bissette. Larry chose a beautiful Butternut Brown Total Wood Preservative (TWP) to complete his log home restoration!
---
We recently had the pleasure of completing a Total Log Home Restoration in Marshall, NC Madison County. This was a gorgeous log home that needed some TLC to bring it back to its original glory.
Read More
---
At Total Log Home Restoration, we are committed to bringing your log home back to life. We offer a complete home restoration package that includes carpentry and log replacement. This customer experienced significant rot damage between the bay window, front door, trim around the windows and upper deck.
Read More
---
There was a project presented to us in the town of Cullowhee, NC Jackson County, for a log home in need of some maintenance. As always we began with a power wash cleaning that consisted of a three part cleaning agent in order to cleanse the home of any mold, dirt, or debris that had adhered to it.
Read More
---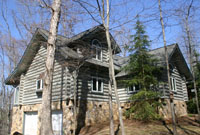 Log cabin homes are beautiful, set as they are away from the noise and stresses of city life. When you own a log cabin home, you own peace and tranquility, a little slice of Paradise to call your very own. But trouble can easily come to Paradise if you don't keep up proper log cabin maintenance. Here's what you need to know to keep your log cabin in good working order.
Read More
---
I receives a call from Lynne, located in Danbury, North Carolina. This was a maintenance request for her log home, as we had restored her log home back in 2008.
Like any home, dirt and mold need to be removed and washed away from the logs. The logs are in pretty good shape and on a maintenance job, we will only apply one coat of fresh stain, just to add to the protection.
Read More
---
I was contacted by Chuck and Ann J. from Apex NC to in Wake County to restore their log home. The couple informs me that they have lived in their log home since 1986 and have not done any maintenance work on their home at all. Twenty eight years is a long time without maintenance work. This cabin was ready for a total restoration.
Read More
---
Total Log Cabin received a call from a customer in Creedmoor, North Carolina. Our customer, Louis was requesting a total restoration to his log home. My walk around inspection, with the customer, revealed the old stain was peeling in some places, spots where the stain was uneven, and in some areas, no stain at all. Of course the recommendation here was to strip away all the old stain and start from scratch...
Read More