Total Log Cabin Restoration is North Carolina's best log home restoration service providing high quality workmanship, products, and unbeatable customer service.
Now offering restoration service in the following Davie County Towns: Bermuda Run, Cooleemee, Mocksville
Townships: Calahaln, Clarksville, Farmington, Fulton, Jerusalem, Mocksville, and Shady Grove

Davie County, Log Home Inspection and Repair

Total Log Cabin Restoration provides comprehensive inspection of your log home. The inspection includes checking the logs that might be in need of repair or replacement, pH level & moisture testing, insect damage, water damage, as well as inspect the chinking and caulking for any damage. Learn more about our log home preparation.
Log Home Power Wash Cleaning in Davie County

Before the restoration project can get started, old stain and finish must be removed from the logs. Not all companies agree on how stripping old stain and finish should be accomplished, but over the years, Total Log Cabin Restoration has developed a solution and system that works every time. Our prefered method is power washing with our own formula. The power wash is also a great prep for the logs, as it helps to open the wood pores allowing for a deeper penetration of new stain.
Log Home Chinking in Davie County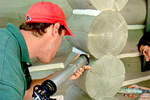 Quality log home chinking and caulking need to breath and move with the log home as it experiences the changing weather conditions. Inferior products will crack and open providing a place for insects to nest or trapping water that will in time cause damage to the logs. Total Log Cabin Restoration will only use high quality products on your home to insure our guarantee.