Total Log Cabin Restoration leads the way in North Carolina when it comes to log home restoration service. We provide high quality workmanship, products, and unbeatable customer service.
Now offering restoration service in the following NC Counties:
Stewart Thibodeau is recognized as a leader in the log home repair and restoration service industry in North Carolina, South Carolina, Virginia and Georgia. With over 15 years experience restoring log homes and log cabins, Stewart has gained a reputation of trust. From power wash cleaning and stripping, chinking and caulking, and wood stain application, Stewart has successfully restored hundreds of log homes in NC. Read the testimonials and learn how Stewart has provided excellent customer service.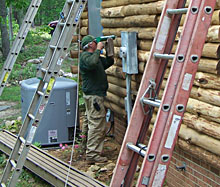 Total Log Cabin Restoration is the sister site of the well known Total Deck Care, started by Stewart's son Jason, who offers restoration services in the greater Northeast. Together Stewart and Jason developed a restoration system that guarantees quality results.
Stewart has been in the home improvement industry for most of his working years and his success can be attributed to understanding the importance of providing good customer service. Stewart believes customer service begins with good communication, he will spend the time to make sure his customers are educated on product and procedures, and always providing options.