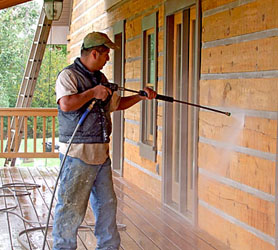 Total Log Cabin Restoration has been repairing and restoring log homes for over 20 years. The company's success can be contributed to the very detailed and comprehensive prep plan they use for every log home restoration project.
When it comes to removing old stain and finish from the log home, pressure washing is the quickest and least expensive route to go. Many people think that pressure washing could be damaging your logs with water, which is a fallacy. In fact, water is only being applied into the top fibers of the wood. Pressure washing logs is the best cleaning method and can be done in practically any temperature. At Total Log Cabin Restoration, we use a formula that we developed that will effectively and safely remove old stain and finish, as well as mildew and other debris. Our restoration professionals have the experience and the know-how-skills to power wash your log home using a low pressure that will not damage the logs. When our crew is power washing, another crew member is in the inside informing the crew where any water is coming in and making sure nothing gets damaged on the inside. Unlike corn blasting, one does not exactly know where to caulk for best protection. Corn blasting can also leave pits in your logs and a lot of dust in the house.
At Total Log Cabin Restoration, our first important step is to bring the beauty back to your log home by bringing the logs back to their natural state, by pressure washing or stripping. After removing the old finish, Total Log Cabin applies an acidic agent to logs to neutralize them and return the logs to the proper Ph level. The neutralizer also prevents the new stain that is being applied from peeling. The power washing also opens the pores of the wood allowing a deeper penetration for the new stain that is being applied.