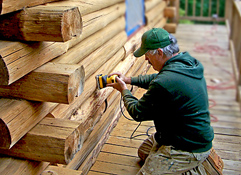 Anyone can apply stain to a log home, but not everyone knows the importance or has a solid preparation plan to restore a log home. Detailed preparation will insure that the finish holds up to the changing weather elements and strong ultraviolet rays. Moisture and sunlight are the two greatest threats to wood. The Total Log Cabin Restoration team are certified and trained wood restoration professionals, we know and understand the nature of the wood and what it takes to protect, preserve, and bring out its beauty.
Total Log Cabin Restoration has the most comprehensive, detailed preparation process to insure your cabin receives the highest quality result. Every log home restoration project we work on receives the same process, and because of this process, we guarantee all our work.
Here are some of the log home preparations you can expect from the crew:
Inspection of log home
Covering all windows, doorways, and lights
Protecting the landscaping
Removing the gutter downspouts
Old stain and finish removal
Rinsing the cabin thoroughly
Sanding
Caulking
Repairing and replacing failed chinking
Treating logs with a borate and bee treatment
Most contractors will not sand log homes because it is a lot of preparation and a boring job. Sanding is so important because it not only creates a smooth finish, but allows the stain to penetrate more uniformly, have better adhesion, and achieve a more consistent look.